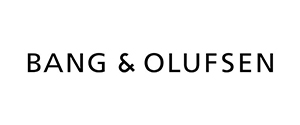 Bang & Olufsen
|
Founded: 1925
|
Origin: Denmark
Bang & Olufsen is a global luxury-lifestyle brand founded in 1925 in Struer, Denmark by Peter Bang and Svend Olufsen, whose devotion and vision remains the foundation for the company. The rich heritage built around the relentless determination to create products that push the boundaries of audio technology continues to place the company at the forefront of audio innovation.
Today, every Bang & Olufsen product is still characterised by the unique combination of beautiful sound, timeless design, and unrivalled craftsmanship. The company's innovative and progressive audio products are sold worldwide in Bang & Olufsen monobranded stores, online, and in multibranded stores. The company employs over 1,000 people and operates in more than 70 markets and Bang & Olufsen's shares are listed on NASDAQ Copenhagen A/S.
WE LOVE IT BECAUSE
Bang & Olufsen pushes the forefront of design and sound engineering, their range of portable speakers and headphones make the perfect partner to take you on the ultimate road trip, while their home equipment delivers professional grade audio quality without turning your living room into a studio. Be it at home or further afield, Bang & Olufsen delivers style and substance in equal measure.